WTS-750/800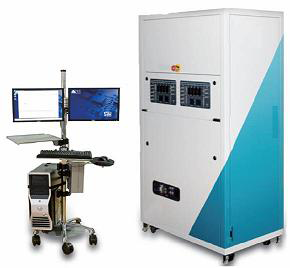 Analog and Mixed Signal IC Test System

The test system WTS-750/800 is based on WTS-700.
It has new functions for testing automotive IC and power IC newly leading analog IC market.
It supports testing from Li-ion power control device to high-voltage(2000V), high-current(500A) device, or from analog IC to digital IC.
It has maximum 4 test stations and can control the resource board in best timing by the Async function (Patent registered).
Therefore, it can work at it's best performance even when testing different devices simutaneously.
It is a high cost performance test sytem which supports not only various kinds of small quantity production but also mass production.
Product Specification
Device to test
Automotive Device, Power Device, Discrete Device, LED Driver, Precision OP-AMP, Motor Driver, Telecom Device, Sensors(GPS, G-sensor etc.), AC/DC Power Controll IC, Analog/Digital Audio etc.
Digital I/O
50MHz, 16V
VI-Source
APMU ±60V/±250mA

LAPMU ±60V/±25mA

MPPU2612 ±200V/±100mA, ±20V/±1.5A, ±5V/±10A (Pulse), ±200V/±1A (Pulse)

MPPU2602 ±40V/±1A, ±6V/±3A, ±20V/±10A (pulse), ±35V/±5A (pulse), ±40V/±2A (pulse)

HVU ±2000V/±30mA

MPS6010 ±60V/±10A, ±30V/±30A

HCU300 300A/20V

AC
AWG 16bit/400Msps

Digitizer 14bit/400Msps

TMU Input Freq. 100MHz, Input range 200V, Resolution 10ps

Feature
− ASync function (Patent registered), the industry's firtst.

 Multi-Station + Multi-Site supports parallel testing for 2,4,8 kinds of devices.

− ProteusTM System Software

 ・Windows XP OS

 ・VB.Net Programming

 ・Feature-rich GUI debug and analyzing tool

 ・Network remote control