WTS-577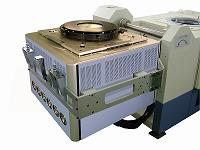 LCD/PDP/OLED Driver IC Test System

WTS-577 is designed with latest architecture and optimized for FPD(Flat Panel Display) Driver IC testing.
It has the features of high performance, low price and small footprint, not only for voltage output LCD and PDP Driver IC, but also for current output OLED Driver IC testing.
It was also realized low power consumption about max 3KVA with the condition of 200V, 256 IO PIN and 1536 LCD PIN.
Product Specification
Device to test
LCD/PDP/OLED Driver IC
Parallel Testing
MAX 32 devices
Digital I/O
Normal 250MHz, High speed 1Gpbs, 1.6Gbps


Normal 256PIN (max 512PIN), High speed 8 pair, 5pair

Driver Output Judgement
±8V ±20V ±60V

Standard 2304PIN (MAX 3072PIN)

OLED Output Judgement
Available (Option)
Digitizer Resolution
16Bit, Perpin
Feature
High performance,

Low price,

Small footprint,

Low power consumption.